I love looking at Morning Glories. They brighten up the landscape with splashes of color on a sea of green. I was going to purchase Morning Glories for my own garden, but the sales clerk in the garden department didn't have any. She said most people in our area plant seeds in the Spring. So when I was on vacation, I happily purchased some seeds for Four O'Clocks.
Four O'Clocks look a lot like Morning Glories, except that they are variegated. I'm looking forward to the arrival of Spring and planting my Four O'Clocks.
Below is my artistic version of Morning Glories. The flowers are wispy, yet boldly displayed. The leaves seem to be almost floating. I decided to make a rendering in pointillism.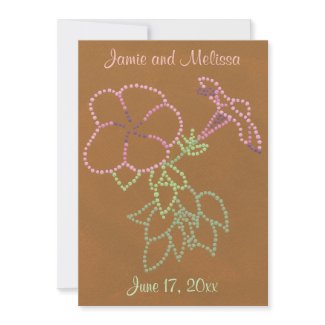 Morning Glory Pink Green Brown Wedding Invitations
by
Cherylsart
See other
Morning glory Invitations
Below are some Morning Glory and Four O'Clock seeds if you'd like to add a splash of color to your own garden:
All the best.
Cheryl Paton
CherylsArt on Zazzle