The original flag for the United States had the thirteen red and white stripes, with a circle of stars. Using that as the basis for a new idea, I decided to make a peace sign out of the stars and place them on a background of red and white stripes. Their number is still thirteen, and there are fifty stars that make up the peace sign.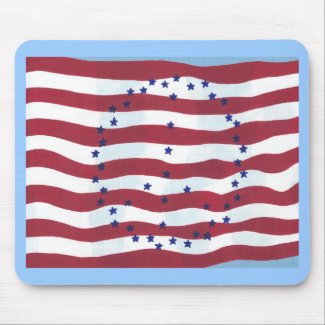 Buy
Stars and Stripes Peace Sign Flag Mousepads
by
Cherylsart
Look for more
computer mouse pads
online at zazzle.com
If you like this design and would like to see it on more products, please visit
Peace Flag
at CherylsArt at Zazzle.
Cheryl Paton
CherylsArt
on Zazzle