Hangman is a spelling game, where one person thinks of a word or phrase and draws lines for the letters to go on. The other players guess the letters, until the word is spelled, or until the stick man is filled on on the hanging poll.
My daughter and I played this game the other night on a dry erase board, and it was fun, being able to play several games and then erase them.
So I thought it would be even more fun, for hang man fans, to not have to erase and draw the poll each time, or the letters.
With the letters provided, as they are called out, they are lined off with the marker, so everyone can easily see which letters are left.
You can order you hangman dry erase board by clicking on the link below, which will take you to the zazzle.com site.
The paper notepad version is also a fun and portable idea. These can be carried along in a purse or tote bag; then you can easily play in restaurants while waiting for your meal. This size measures 5.5 by 6 inches and has three hangman games per page.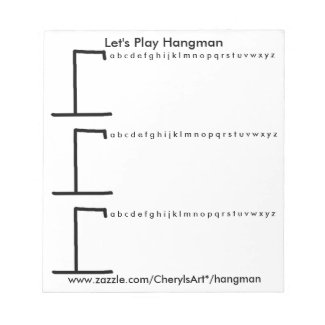 Let's Play Hangman 3 Games per Sheet Notepads
by
Cherylsart
View a smaller 2 game version per page at
Zazzle
.
Enjoy.
Cheryl Paton
CherylsArt
on Zazzle