Keychains are a nice gift for the graduate, especially if it leads to a car. However, it's nice to have an updated keychain anyway, and especially one that commemorates a special occasion.
This style features a cap and tassel with a placeholder for your added text, which can also include the year of graduation. The design and text are printed on both sides, so be sure to update both sides for any customization that you do.
I like this style because they are flexible.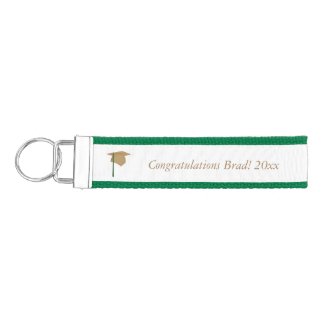 Gold Cap Tassel Add Year Name Graduation KeyChains Wrist Keychains
Find more Graduation Wrist Keychains at
Zazzle
The strips of colors down the side edges come in a choice of 12 color options, which includes red, pink, yellow, green, purple, blue, and more.
The cap and tassel color combinations come in a choice of five.
If you have any other color combination requests, you can email me at creative-brushstrokes@comcast.net.
Many happy congrats to you and your grad.
Cheryl Paton
CherylsArt
at Zazzle