You have found graduation necklaces and pendants that you can customize online. You can choose a more formal look to ones that are more playful in nature.
This first design features a blue cap with yellow tassel, with a placeholder for you to easily customize the year: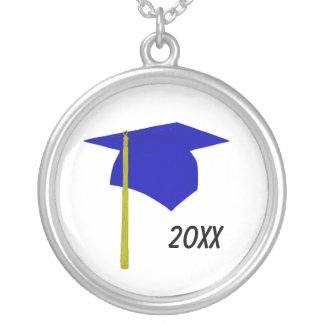 Blue Yellow Gold Graduation Cap Tassel Necklace
by
Cherylsart
This design is also ready in other color choices:
graduation necklaces
The star design pattern of silver and blue has a placeholder for the year as well, and is easily personalized with a name:
I like this design; it is both fun and colorful. It features a cap and tassel, and a diploma design.
Other ideas are simple sayings that the student can use as words of wisdom on their journey:
Congratulations to your graduate, however they are related to you, or however you know them. Thank you for thinking of them.
Cheryl Paton