One of my favorite verses in the Bible is Proverbs 25:11 - A word fitly spoken is like apples of gold in pictures of silver.
To me, this verse means to speak kindly to and about one another. To give praise and compliments, to encourage the better in us.
In this necklace, the words of this verse are printed in silver on a painting of a gold apple on a background of silver, that I did. May it bring you many blessings.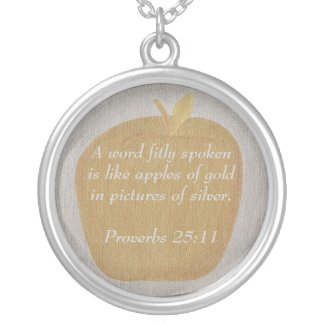 Proverbs 25:11 Gold Apple Sterling Silver Necklace
by
CherylsArt
See more
Proverbs gifts
by CherylsArt at Zazzle.com.
I made another version with the text written in black and larger letters for easier reading. This necklace is shown in square; and you can also choose a different shape and/or finish.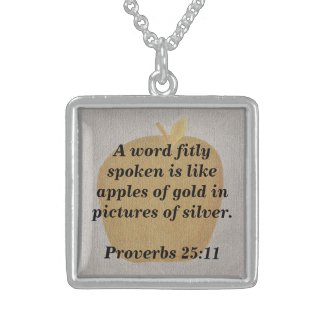 Word fitly spoken like apples of gold Necklaces
by
CherylsArt
View Proverbs Necklaces online at
zazzle
Here are some other necklaces that feature other verses from Proverbs:
Cheryl Paton