I had heard of the saying, when pigs fly, back in my younger day. I was surprised when I met my husband that there is a city that actually has statues of flying pigs. He's from Cincinnati. I can't say why I decided to paint a flying pig. It just occurred to me to paint one. And not just any flying pig. This one was a magic pig. Ht was going to be carrying a wand with a blue star on its tip. From it, the pig was going to generate more blue stars. How cool is that!
I didn't want to use anybody else's idea of a flying pig. So I went with the idea of what's round like that flies. A bumble bee of course. So I used images of flying bumble bees to get my general drawing and wings done. Then I browsed images of pigs to get the general placement of the snout, ear, toes, etc. Next he got a magic wand with a blue star.
Because it's magic when pigs fly...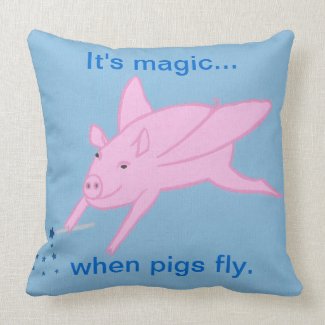 Buy
It's magic when pigs fly Pillow
by
Cherylsart
View more
Pig Pillows
I thought it would be cool to open an envelope and see a pig sprinkling blue stars in to the contents.
Buy
Pink Flying Pig Making Blue Stars Envelopes
by
Cherylsart
Make my own envelopes
using zazzle
What do you think?
If you'd like to see more products, visit
pink flying pig
in my Zazzle store.
Here are some flying pig products by Google Affiliates.
Cheryl Paton
of
CherylsArt
on Zazzle