After I did the colorful stars painting in pastel circles, on black, I decided that they would make a great birthday sticker. I had initially thought of having a solid black section in the middle to write "Happy Birthday!" on. When I went to create the stickers on Zazzle, the color black wasn't clickable. Dark gray did not have the look I wanted.
On with plan B, I went - choose a center color. I wanted the color to complement and go with the colors that were already in the design. The first one I chose was way to light. The second color, a light blue, was just right. It gave it a pop. So that's the one I went with.
Order
Colorful Stars on Pastels, Black Birthday Stickers
by
Cherylsart
Check out Birthday Stickers online at
zazzle
Once I made the stickers, I decided to post my new design on Facebook. Then I decided to engage some conversation. How would I get the conversation going, I thought. I asked people what they thought of the design. When I checked back in, there had been nine views but no comments. Okay, I thought, what else can I ask. "To describe them," was the thought.
So I added how I would describe the design, vivid, to help get them started, and asked how they would describe the design. If you feel so inclined, do pop over to my
Facebook
page and join in on this conversation. You'll recognize the thread by finding the colorful birthday sticker that was posted above.
I also thought the design was on the bold side. So in helping my fellow Zazzle artists, I am posting some additional bold and vivid Happy Birthday stickers for your consideration.
First up is this bold balloon design. The age is easily customizable on a template form: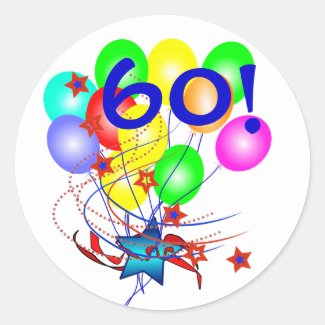 Order
60! Or Any Age Birthday Balloons Round Stickers
by
mvdesigns
Create your own sticker
online at Zazzle.
Second up is this vivid celebratory design: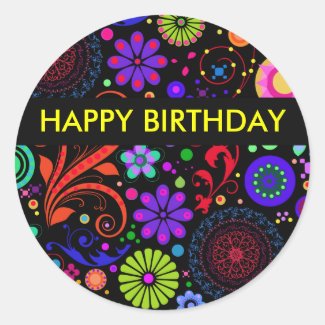 Order
Happy Birthday Stickers
by
CHACKSTER
Find other Abstract floral birthday Stickers at
zazzle.com
Thank you for visiting my page. If you like it, please share it.
Cheryl Paton
CherylsArt
on Zazzle