It has been said that it is important to mediate and also to mediate on God's word. What better way than to remind yourself of a favorite positive feeling prayer, than when you're ready to rest your head. It's the perfect time to put in your mind, a positive prayer. Thinking about prayer in this way can also be a form of meditation.
Sometimes the best prayer is just to give thanks. This round pillow showcases a universal multi-racial hand that represents all the races, reaching up and touching the universal hand of Love, represented as pure energy. The design and prayer are printed on both sides.
This next pillow features a prayer of allegiance to God, whose real name is Love. It is displayed on a cloud like background and is printed on both sides.
Allegiance Pillow
in pink.
A common prayer that a lot of people like to use is the Serenity Prayer. The pretty background scene for this prayer is the ocean, mountains, and sky. The prayer is printed on one side and the design is printed on both sides of the pillow.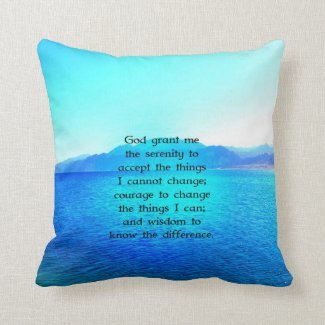 Serenity Prayer With Blue Ocean and Amazing Sky Pillows
by
Theserenityprayer
See more
Serenity Pillows
This simple prayer of, Now I lay me down to sleep, is geared towards kids. The design and prayer is printed on one side. It features a nice design of moon and stars.
If you already have a favorite prayer, you can design your own pillow. Simply click on the DIY pillow, click on Customize It, to begin. You can then upload a background and/or small image to your pillow, and type in your prayer. Tip: type in your prayer and then choose the font (f) style and then the size of the font. If you don't immediately see the font (f) button after typing in your text, click on the text field box; it serves as a toggle switch and will alternate between the different options. The same goes for the picture field as well. If you want a design on the second side of the pillow, you will need to click on the image for the reverse side, and then design it again. Happy creating.
Many sweet prayers to you.
Cheryl Paton